Save the date for Capital Craft Beer Festival — June 15th, 2024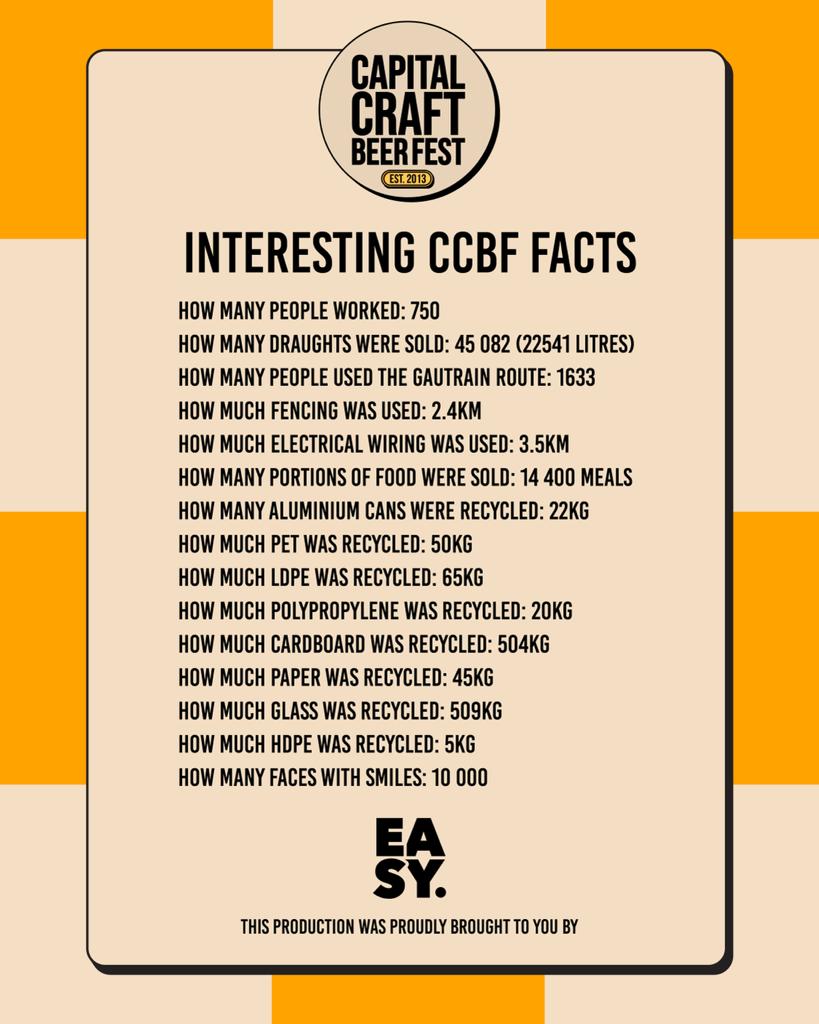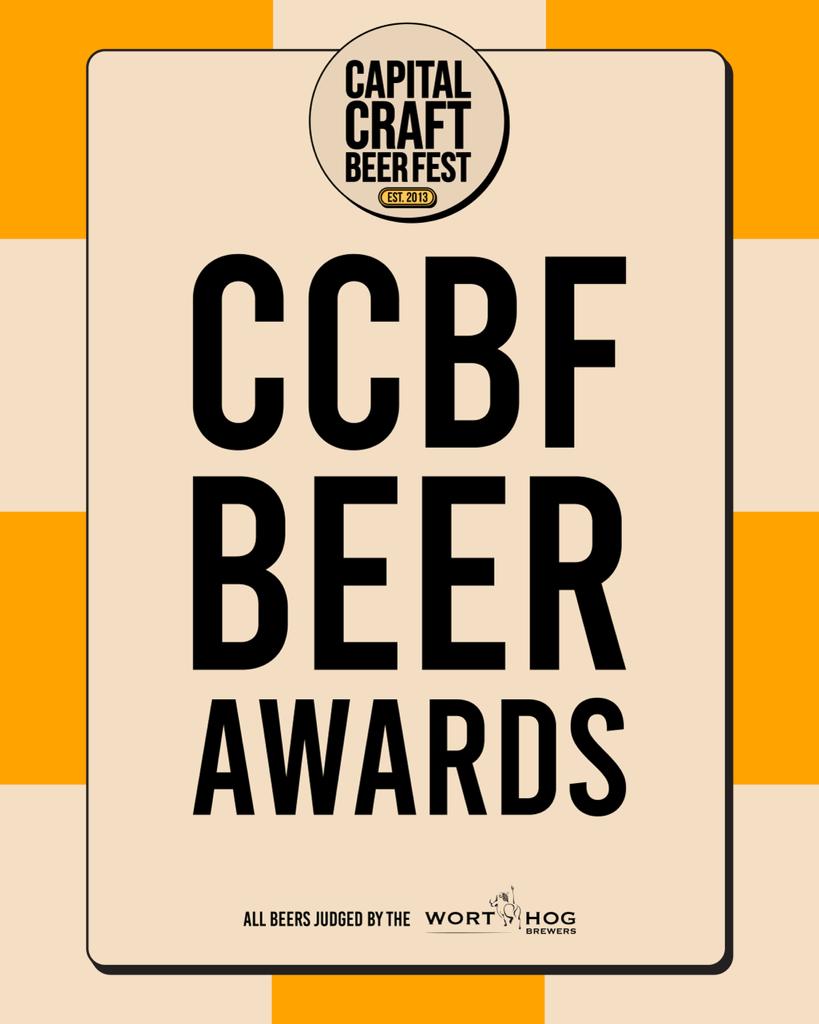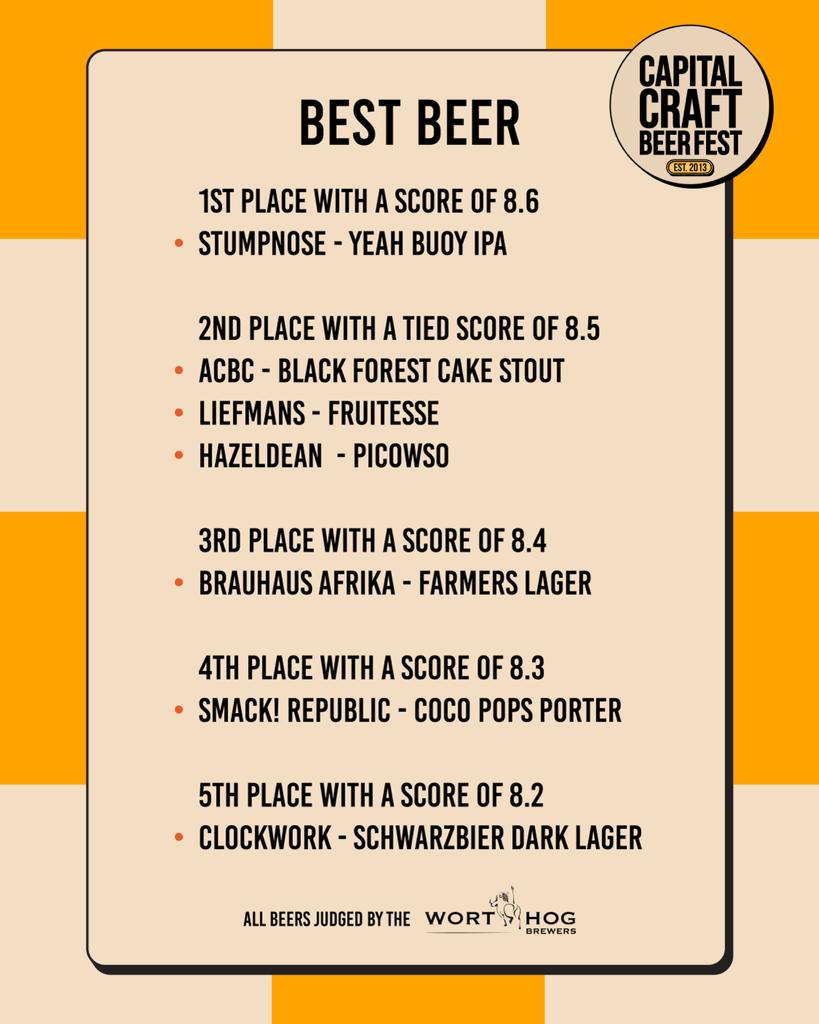 10 years ago the Capital Craft Beer Festival was born. This year we enter A DECADE OF #CCBF under the diamond skies of the 012!
We will once again be uniting the Capital's beer and music lovers in the beautiful surroundings of the Pretoria National Botanical Gardens. This year's festival will feature the country's favourite craft brewers, an abundance of entertainment for all musical tastes and a diverse selection of food will be on offer.
CAPITAL CRAFT BEER FESTIVAL has for the past 10 years been one of Pretoria's most spectacular, unforgettable and well-executed social events, whilst celebrating the local beer industry and enhancing the flavour of good food, good times and good friends! This year will be no different!

Tickets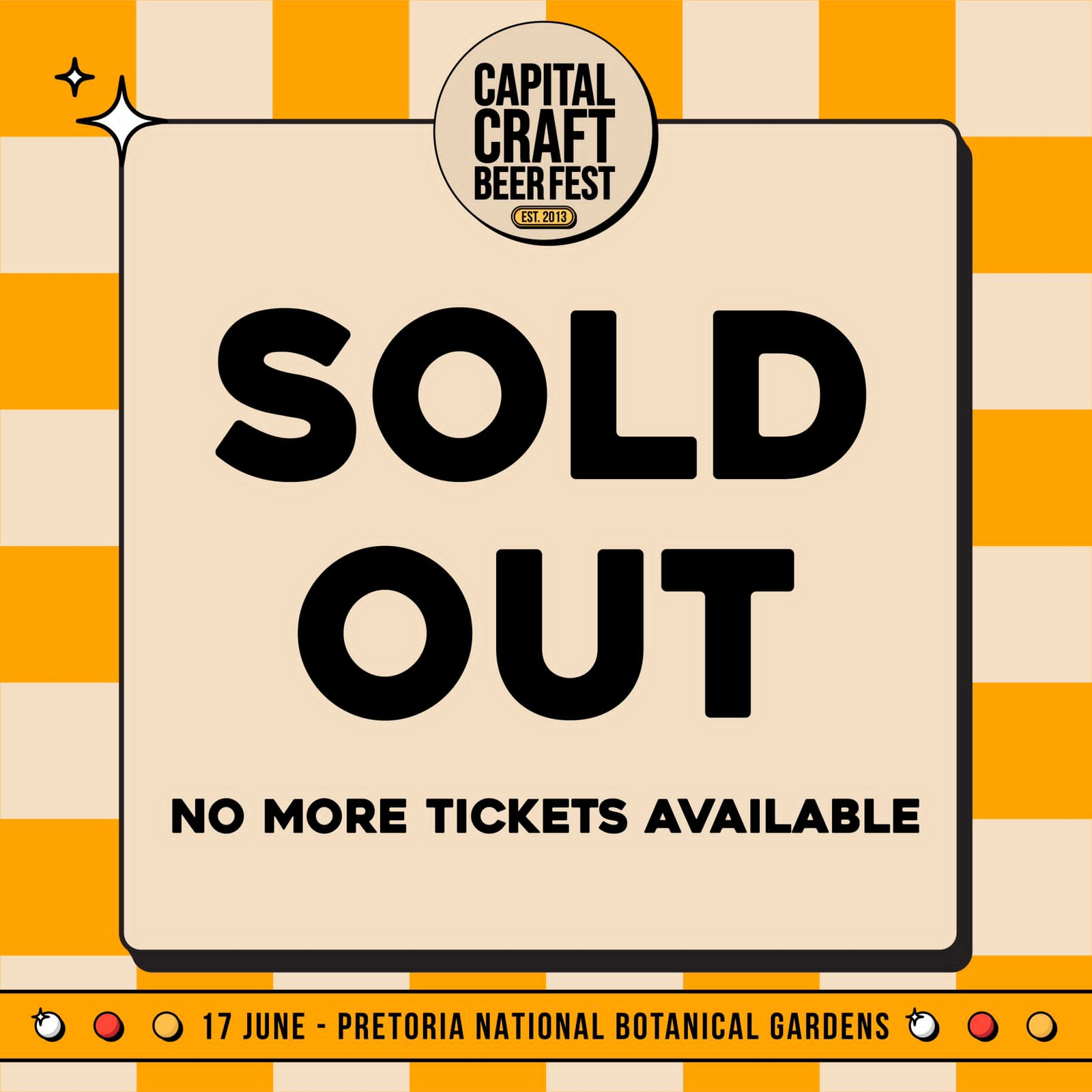 Things to Know
We do have disabled parking available at the main entrance.
Please prepare your travel route before you leave home.
We are running free Park and Ride from the Hatfield Gautrain Station & Christian Brothers College to the festival and back all day.
Busses start from 9:30.
All Parking costs R40. Available on Cussonia Road and Christian Brothers College.
Please bring picnic blankets and/or camping chairs to sit on. We do have some seating but the venue has so many cosy corners.
NO cooler boxes, gazebos, drinks, food, hubblies, pets, weapons, or drugs are allowed into the festival.
Cash is KING! A lot of vendors will also have card machines. Snapscan, Zapper and we will have ATM facilities on site but again please bring cash to avoid having to wait in line to draw money!
Your entrance ticket can be scanned from your phone or you can print it at home.
At the gate, you will get your ticket scanned, and they will then give you an arm-tag and a mug token, after that, you will walk through the gate and hand in your mug token to get your mug and site map containing all the info on where to find the brewers and toilets etc...
Tickets are selling fast and we are expecting a sold-out festival. Due to limited capacity, we cannot help anybody once we are sold out so get your tickets today!
Clamber Club kids area is compulsory for 2 to 12 year old kids that attend the festival. We regret that no kids between 13 and 17 years of age are allowed at the festival.
If you have any questions on the day or find any problems please contact us via our Twitter @capitalcraftpta or post on the event wall and the team will be immediately dispatched to assist you Again… BRING CASH!
We really can't wait to see all of you!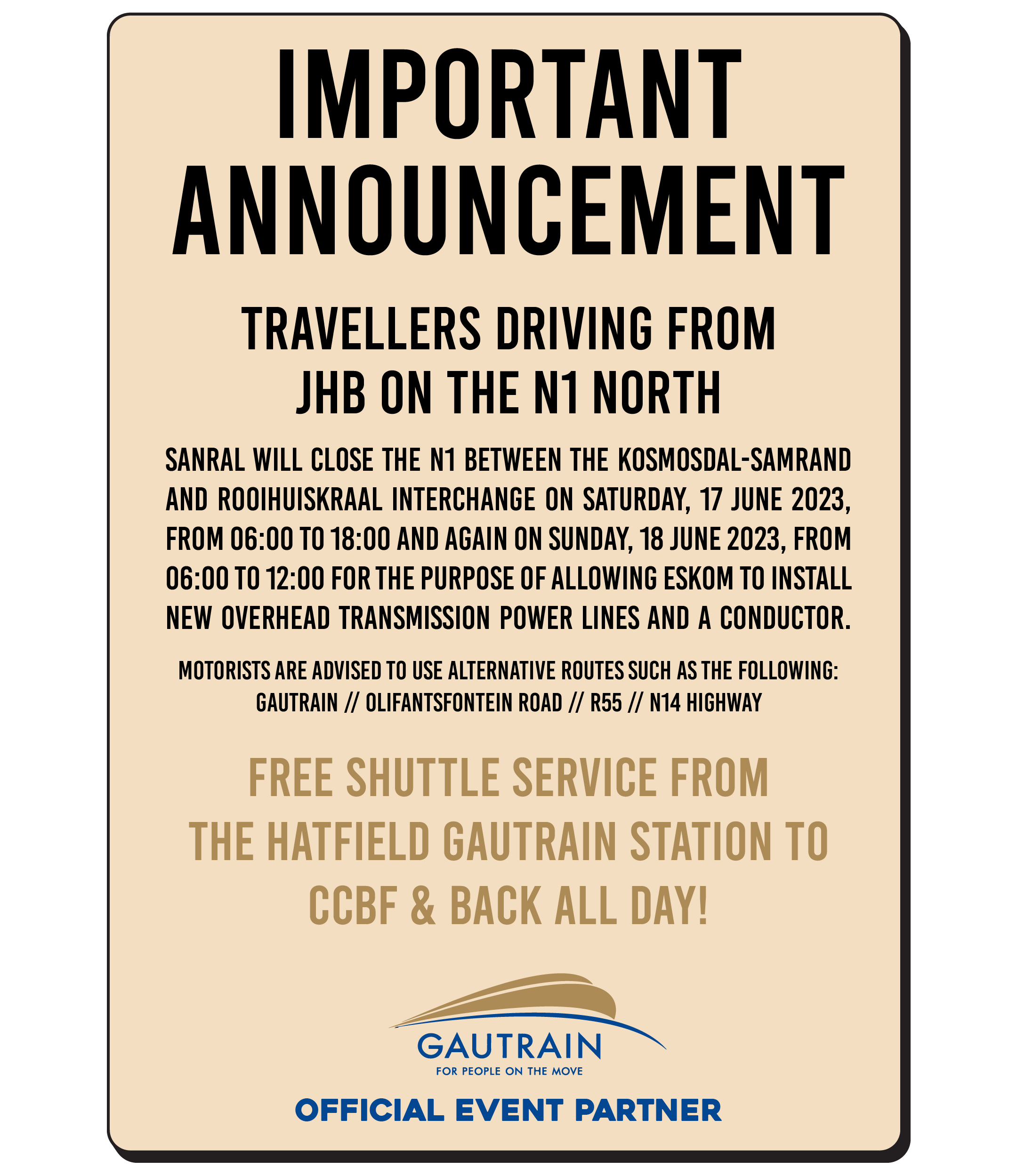 Parking Map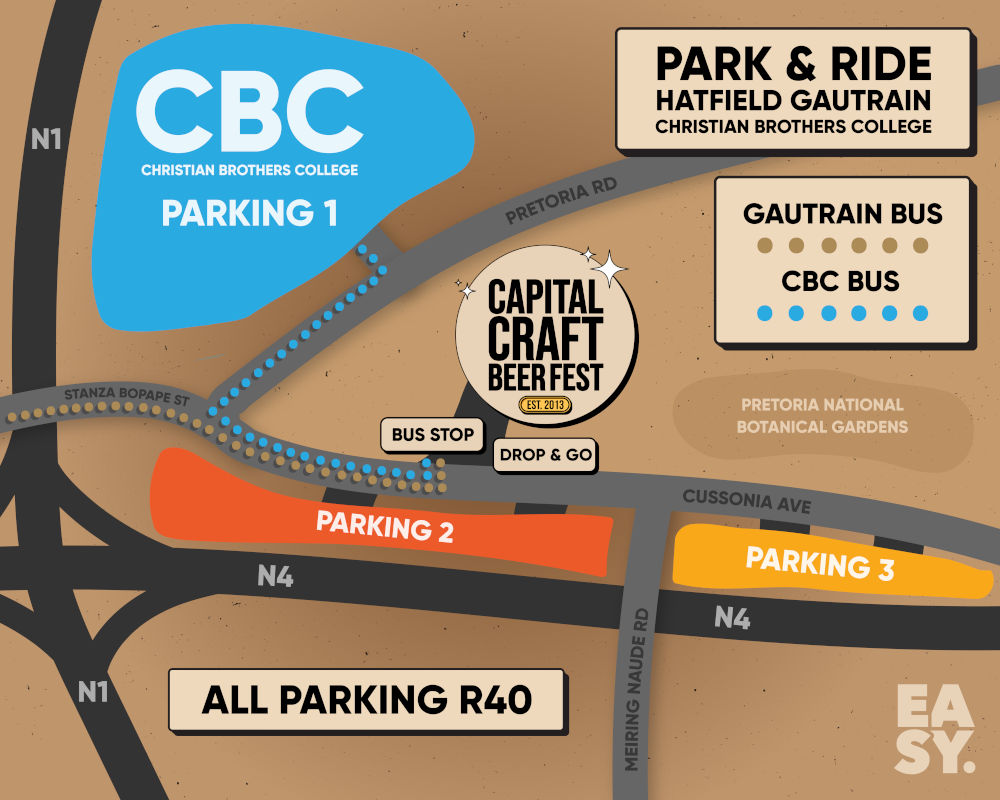 Festival Map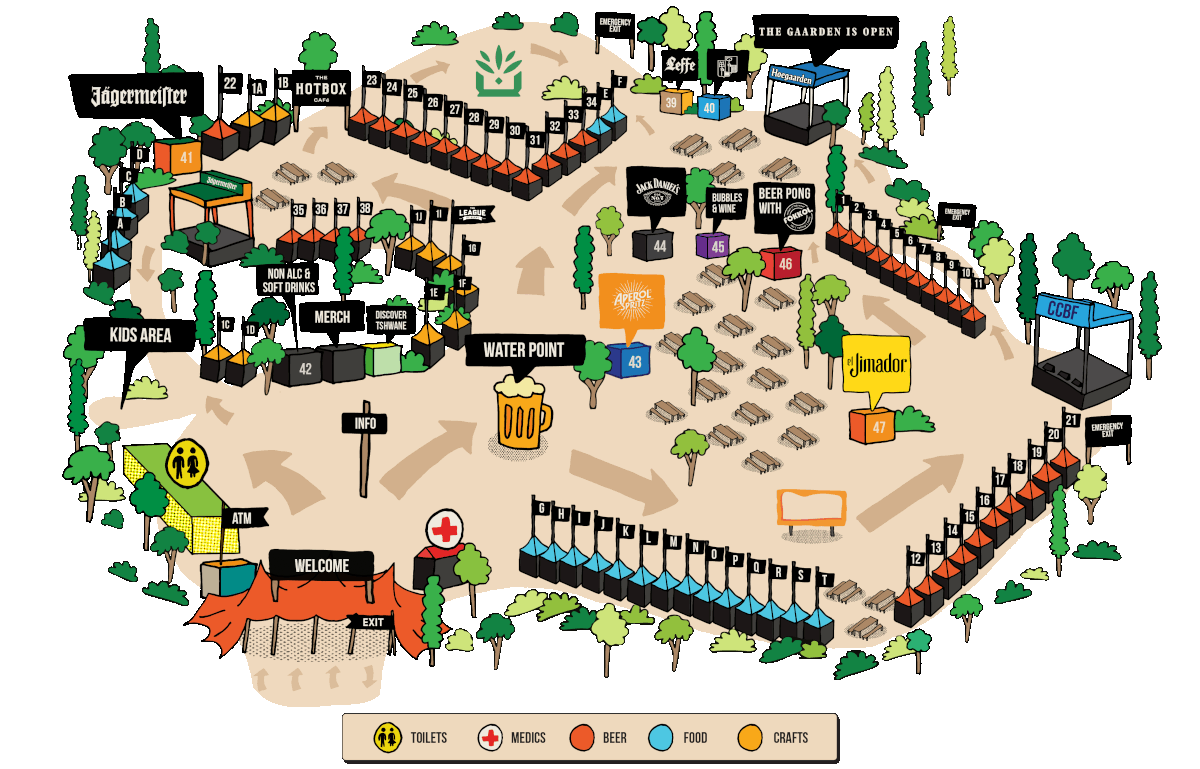 Brewers and Vendors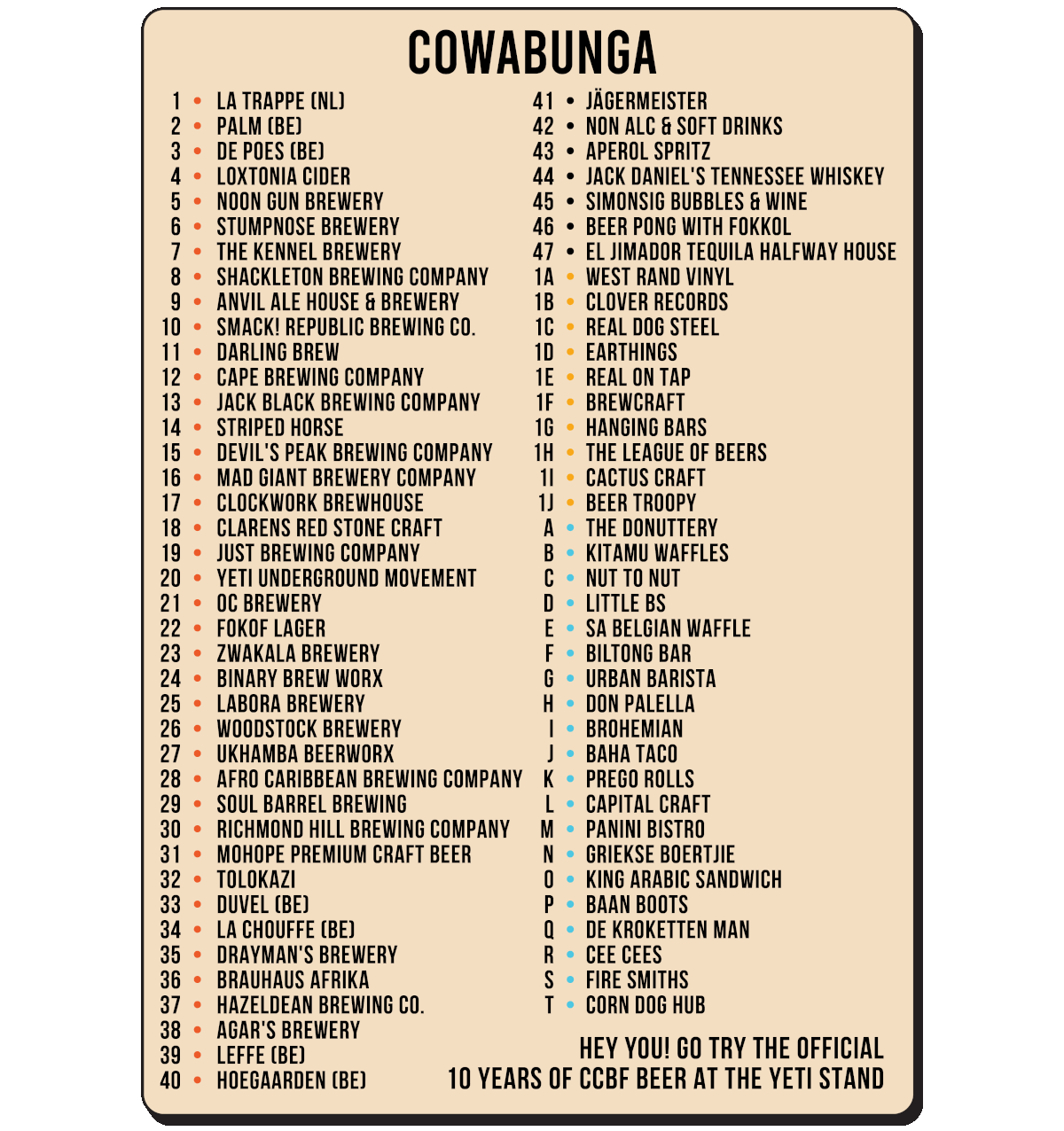 Entertainment
We have 3 stages for all music tastes on the day.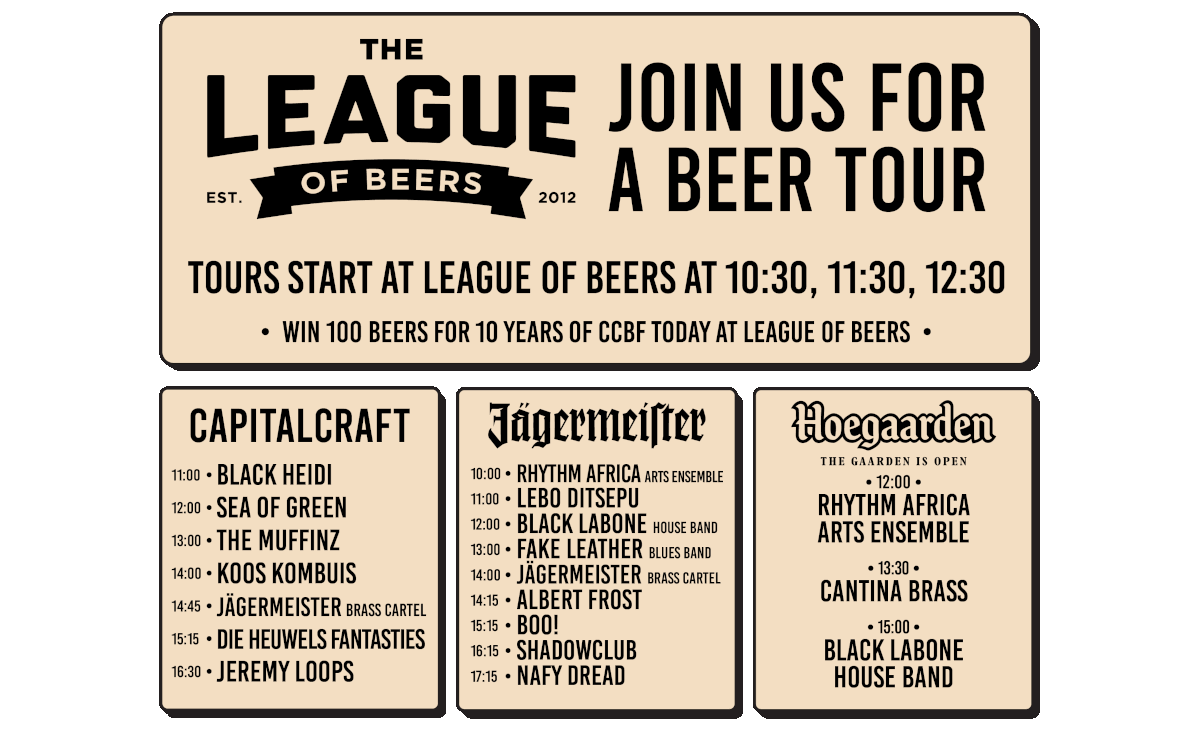 Kids Area
*LIMITED TICKETS AVAILABLE*
For all the Mama & Papa Bears out there. Clamber Club is offering some awesome children's entertainment so the whole family can join!
Their fully trained, fun-filled, entertainers are fantastic with the children and they will be keeping them happily entertained using bright and colourful equipment. They keep them moving whilst you, the parent, can enjoy #CCBF.
The Clamber Club Obstacle Course and soft play equipment will be set up at the Capital Craft Beer Festival Kiddies Entertainment area this year. Clamber Club will offer a safe, fun and active play area for your 2-12 year old kids to enjoy the day just as much as you. Their mascot, Jog the Frog will make an appearance twice during the day to boogy woogy with your kids. There are various fun-filled games and activities throughout the day that they offer appropriate for the various ages.
Tickets cost:
R155 excluding lunch.
R175 including lunch. (a meal and a juice or water)

There will be a tuckshop in the play area. You can buy your children sweets, chips and water!

A Clamber Club ticket is compulsory for all 2 – 12 year old kids that attend the festival.
Unfortunately, there are no kids between 13 and 17 years of age allowed.
For more info contact partiescenturion[at]clamberclub.com
Facebook & Instagram
ROAR — NO U18's — I.D. REQUIRED — NO DRUGS — NO WEAPONS
Disclaimer:
You enter the premises and surrounding facilities at your own risk. Capital Craft (Pty)Ltd, its owners, agents, staff, sponsors and management will not be responsible for any death, loss, injury and / or damage of any nature whatsoever, irrespective how such death, loss, injury and / or damage occurs, regardless whether such death, loss, injury and / or damage is caused through any act or omission by Capital Craft (Pty)Ltd, its owners, agents, staff, sponsors or management.
Craft Beer Industry Vendors